Mural Painting
Last week certainly was a busy week at YAS with Market Day, the completion of the Year 12 exams, transition morning for the kindy students and the shipping container mural painting. The shipping container mural project has been 4 years in the making.
Back in 2019 the ATSI Team invited the whole school to be part of a very unique mural project. To set the scene the team asked students to watch the film produced by the District Council of Yankalilla. Whilst watching the film we asked the students to think about how they connected to and identified with any of the places that were on the film, then we gave them the mural brief …
Imagine you were an Indigenous person living somewhere in the Fleurieu Peninsula (Yankalilla, Myponga, Normanville, Carracklinga, Parawa, Cape Jervis, Second Valley, Rapid Bay or Wirrina) before white people arrived.
Draw a picture or create a design that reflects how you might have connected to or identified with any of those places.
We collected all the student's art work and taking bits and pieces from a number of the designs created a story collage.
With funding from the Wellbeing Grant money we commissioned Niccy Pallant, an Artist in residence, to come to YAS and work with students to paint the mural. For the past 25 years Niccy has worked as an Arts educator and leader in South Australian schools, whose lifelong dream is to work as an artist. Niccy took our design and spent the 3 days working with many YAS students to make our dream come true.
The mural still needs a bit more work and Bu Ellin has kindly offered to work with students to add the final details and I look forward to sharing the finished product. In the meantime if you get the chance take a wander down to the farm and spend some time looking at what has been done.
Thank you to all the people involved in this project and a big shout our to Niccy and all the students that helped prepare the shipping containers and contributed to the mural painting, it is another YAS project to be very proud of.
Kuipo Excursion
Students from FLO/Coastal took on the challenges of the grand course at Adelaide Tree-climb's Kuitpo Forest location. It was perfect weather for the students to spend a couple of hours amongst the trees. It was great to see the students push themselves so far out of their comfort zone at heights, challenging themselves to take on the next course or set a personal record on a previous one.
Prev
Showing images
1 - 8
of 9
Next
Tarnanthi Art Exhibition
Tarnanthi is an exhibition at the Art Gallery of South Australia showcasing contemporary Aboriginal and Torres Strait Islander art. The exhibition celebrates the rich cultural heritage of Australia's First Nations people. Featuring a wide range of artworks, including paintings, sculptures, textiles, and new media, created by Indigenous artists, these artworks explore a variety of themes, including cultural identity, connection to land, social issues, and the intersection of traditional and contemporary influences.
This week some Year 7-10 students enjoyed contemplating the intersection of art with pop culture and history through art. We travelled to AGSA in the city, thanks to a transport subsidy grant provided by BHP. While on tour, we noticed that many Indigenous artists use their work to engage with contemporary issues, challenge stereotypes, and contribute to a broader understanding of Australia's history. Vincent Namatjira, a South Australian artist featured, was very popular with students, as his pictures depicted relatable scenes with famous people, made humorous with the addition of characters like Vincent himself.
Another popular contributing artist was Tiger, a nonverbal artist, who used his obsession with ACDC to create some awesome artwork, fusing rock and indigenous art.
In the studio at the gallery, we were able to use the works of Namatjira to inspire portraits of pop culture figures, or our classmates! Everyone created a piece of work, which will be displayed back at school.
A very cultural day was topped off with a stop at HJ and KFC, where we ate lunch. It was fabulous to see students interacting across year levels and engaging with art.
Thank you to BHP, the front office staff, Eric our driver, and our supervising teachers.
Thanks also to the knowledgeable guides at AGSA and Judith Sweetman for running our studio session. It was fantastic.
Congratulations to the students involved, you were all once again fantastic ambassadors for our school.
Middle Years Market Day - 15th of November!
Over the last seven weeks, the Middle Years students (7-9) have been involved in the $20 Boss program. The $20 Boss program is a business program that is linked to the HASS curriculum under the 'Business and Economics' strand.
In groups, the students created their own business ideas, created their own products and sold them at a Market Day. They are business entrepreneurs! Some of the products that were sold on the day were: slime, jewellery, cakes, biscuits, pet treats and skateboard wax.
Thank you to everyone that supported the students and purchased their products. All groups made a profit which was amazing!!
Fingers crossed we can make this an annual event at YAS!
Jade Barry
(7/8 HASS Teacher)
Bahasa Indonesia - Yr 4-6
Over the past few Indonesian lessons, we have been writing skits about games we have or haven't played and exchanging friendly banter about who will win.
Some of us had fun putting on some wigs and Indonesian clothes to add to our recorded performances of our conversations.
POSITION AVAILABLE/SCHOOL HOLIDAY WORK
South Coast Recycle
Job labourer-Part time (Hrs to be negotiated)
Opening times
9am to 2pm Mon to Fri and
9am to 12noon on Saturdays
Please contact.
Grant Levy 0419843244
Bahas Indonesia Year 7/8
Over the past two weeks, some students learnt how to make the traditional Indonesian Street Food, Dadar gulung.
Dadar gulung gets its unique taste (and colour) from pandan extract.
The snack received mixed reviews, with some students proclaiming "Saya suka" ( I like it), "enak!"(delicious) and giving it the thumbs up, but others were not fans of the taste or texture.
Thank you to our SSOs for their support during this learning activity.
Bagus!
A Note from The Pastoral Care Worker
Our Christmas presentation took place on Wednesday by Schools Ministry Group (SMG).
Saving Christmas saw future time travellers remembering when, back in the day, there used to be Christmas.
We had around 90 Primary students attend. Apart from sharing the story of the first Christmas, students were encouraged to think about how generosity and gratitude plays a huge part of not only Christmas, but every day!
A huge thank you to all the carers/families for your on-going support by allowing your children to attend the Christmas presentation.
Thanks also to staff and teachers for chasing up notes and helping to coordinate the children.
(Wow! SMG had it's logo up in lights on the new Sportal screen)
Wishing you all a happy, albeit busy, last few weeks of 2023.
Blessings, Wendy Lindsay (PCW)



A Note from The Principal
Hi everyone
As we dive into the festive season, we are excited to share some remarkable achievements and celebrations taking place within our school. Our students and staff have been hard at work and I couldn't be prouder of their accomplishments.
Last week our Middle School students displayed their $20 Boss final assignment as an open Market Day to our community. The sun shone and there was so much excellent learning on display as our students endeavoured to sell their wares and make a profit. There was laughter, fun and so much learning. I am sure this is only going to get bigger in the years to come.
This week we celebrated our year 12 students at their final commitment to schooling. The gym looked amazing and there were many compliments form our distinguished guests. We used our new LED electronic screen to share the journey our year 12s have been on for 13 years and there were some happy tears from both parents and our teachers.
We have our R-11 celebrations next week and our year 6 graduation as we invite all our parents and families to actively participate in these celebrations. Your support and encouragement play a vital role in motivating our students to reach new heights.
Thank you for your continued support and I look forward to celebrating the successes of our students together.
Christine Bell
Crochet Bracelet Advertisement
On Market Day, there will be crochet bracelets for sale on the 15th of November at Yankalilla Area School. Come to CAP- Best Bright Bracelets to buy a lovely crochet bracelet to brighten up your day! Like we say at CAP'S: Wear bright, feel bright!
Patricia, christine and Amy
Amaroo Farm Barn Dance
YeeHaw!! The Barn dance at our school farm was a rip-roaring success, with folks from all over the community boot scootin' and hootin'. The staff are already getting ready to make next years dance even bigger and better.
Rotation Drama
This week we went to a royal ball, pool party and Halloween special in Drama warm ups, allowing us to create characters and dialogue while avoiding the wink murderer!
We also explored the stories of Tiddalick the frog and Maui and the Sun using simple scripts. We worked in groups and performed in a round theatre. A round is a stage where the audience sits on all sides of the stage. A great example of a round theatre is the Colosseum in Rome.
We reflected that the round theatre was tricky, as you needed to keep moving, so your back wasn't always shown to one section of the audience.
Hello Halloween
Hello Halloween!
It was a ghastly, ghostly greeting on the steps of the schools this morning. Pictured are our spooky students joining Mrs Williams and Mrs Bell.
What a wonderful ,witchy welcoming committee it .
Hallet Cove International Students and Japanese Tour group Visit.
Yankalilla and the Amaroo farm once again hosted international students from Hallet Cove.
Our hosts, Lilly, Chayse, Ruby and Ella did a fabulous job getting the students around to the different classes to talk about their home countries and to teach us a few phrases.
Once again, Ms Braithwaite's baby roos were very popular, with multiple selfie and other photo opportunities. Sharyn shared how she raises the babies and continues to look after them even when they are fully grown, as re-release is not an option in South Australia.
The Japanese tour group were very impressed with the information shared by our year 10 speakers, Georgie, Cherell and Tiffany, who confidently shared information about aspects of the farm.
They even wanted a photograph with our notes in it!
The International students tour information was done by Lilly, Chayse, Ella and Ruby. Blake and Tadhg adlibbed without notes, sharing information about the Edible Kitchen Garden and the yabbies. Very brave!
Thank you to Graham and his helpful cooks, who made sure that the BBQ was ready once the farm tours were completed - the food was very popular and proclaimed as delicious!
Thanks to Sharyn for sharing her cute as ever kangaroo joeys and a big thank you to the classes who listened intently to the presentations and asked really interesting questions.
A massive thank you to our hosts, Lilly, Chayse, Ella and Ruby - who kept program going by ensuring that speakers were in the correct class and shared information about our fantastic farm and some history of our school and area. Well done.
We look forward to our next International visit in 2024.
$20 Boss- Middle School Market Day 15th November!
The GLA students from the four classes have been extremely busy designing and making products to sell on Wednesday the 15th of November (Week 5). This has been an extremely long process whereby the students have created their own businesses from scratch, including business logos and packaging!
Some examples of the products that the students will be selling are dog treats (see attached photo), jewellery, slime, skateboard wax, baked goods and drinks.
We are encouraging all students and the community to support our businesses by purchasing our products! We can only accept cash on the day. We will be setting up stalls on the oval, in the GLA and in the new undercover area from 12:30pm-2:30pm.
This is the first time Yankalilla has participated in the $20 Boss program and I know that the GLA teachers and students are looking forward to this super exciting event!
Please help us promote Market Day around the school and we hope to see you all there!
Kind regards,
Jade Barry
A Note from The Principal
Hi everyone and week four is running away from us so quickly. At the beginning of the term I asked all staff to send me what extra curriculum activities they are planning for our students this term. My thinking was to make sure there were no cross overs and also being aware of the pressures on staff and our students in this final term.
WELL the amount of extra activities and learning planned this term for our students are huge! This week we enjoyed some First Nations people sharing their culture with us through dance and song. The Lions club offered free eye tests for our students and our Cockatoo café was a buzz. We have students tree climbing, visiting city cafes and generally enjoying wonderful learning experiences. If you get a chance over the next couple of weeks just tap one of our staff on the shoulder and say a little thank you for all they do.
Haley and I are working today with our Partnership principals unpacking our Departments new strategy. Its exciting, very inclusive and inspirational and leave me with so much hope for what the future brings for our young people. We will be delivering some of this information back to staff as part of our student free day on Monday.
Governing Council met last Monday evening and looked at the budget and the submissions for 2024. The council appreciated the work of the school in opting into the Departments new Digital Strategy. We have begun this journey by purchasing laptops for all our year 5 and 6 students for 2024 and like I said this is going to be a very exciting roll out.
Have a happy week everyone and enjoy our changing weather.
Christine Bell
Library News
It's totally wild in the Jungle Nook, with flowing waterfalls, swaying palm trees and cheeky monkeys swinging from the vines. Maddie and Matilda from 2-3A did a great job of taming the big cats in the Jungle Nook today whilst their 2-3A classmates borrowed library books.
Yr 8/9 Home-Ec Rotation Group
The Year 8/9's celebrated in style for their last Home-Ec practical lesson for this year. They made sticky date puddings and they loved them! I loved the smell floating through the Home-Ec building!
I have been so impressed by the cooking skills they have demonstrated and I know that they will be amazing chefs for years to come.
Well done Year 8/9's!
Jade Barry
(Home-Ec Teacher)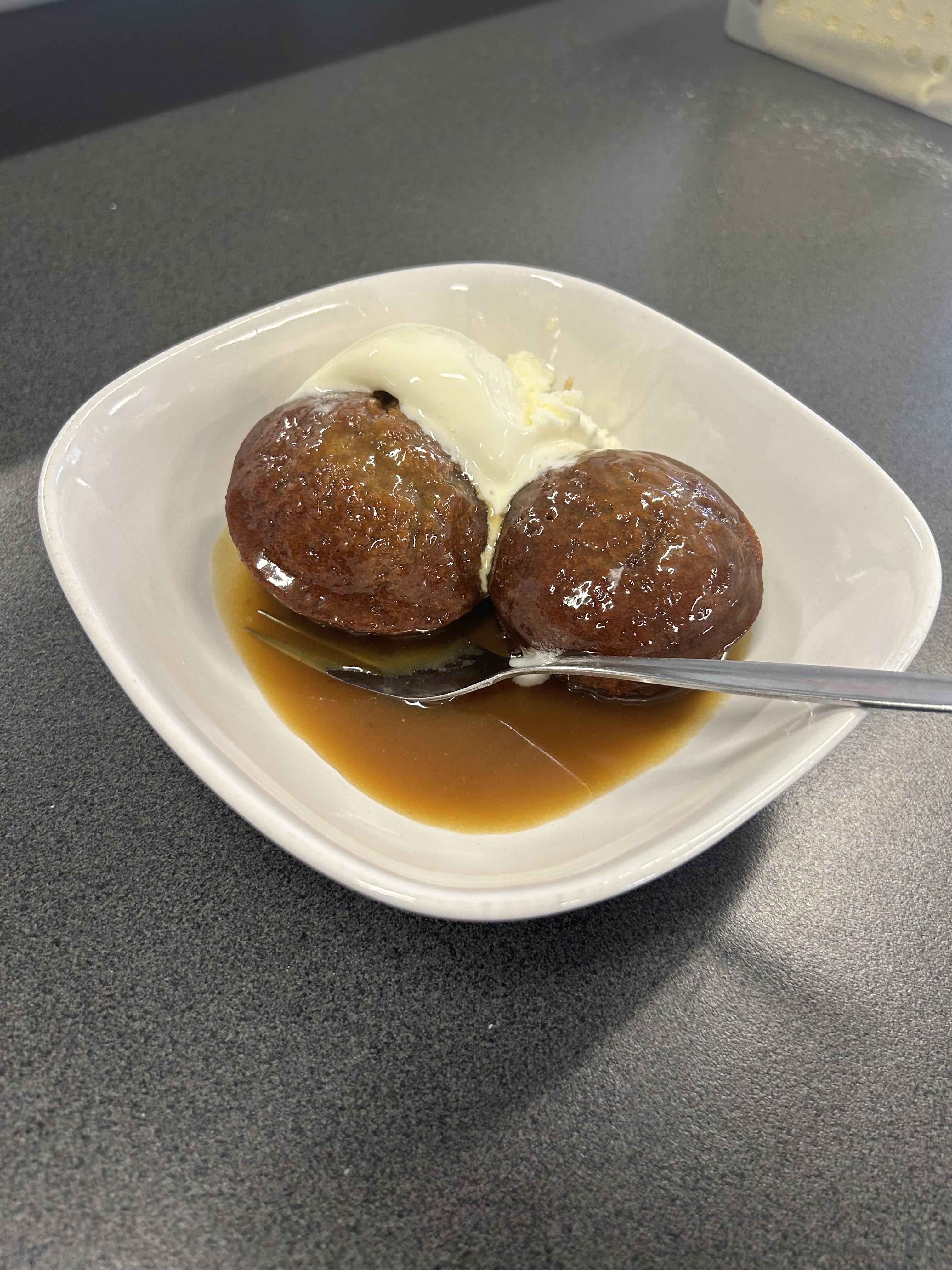 Year 7/8 Urban Camp
The school term kicked off with a burst of excitement for our Year 7 and 8 students as they embarked on an unforgettable urban camp adventure. Over the course of three action-packed days, our students explored a range of thrilling activities that left everyone with great memories.
One of the highlights of the urban camp was the heart-pounding adventure at Westbeach Mega Climb. Our students conquered their fears, scaling new heights, and challenging themselves to reach the top. This experience fostered teamwork, determination, and an incredible sense of accomplishment.
For those seeking retail therapy, the students had the opportunity to explore the shopping meccas of Marion and Glenelg.
A trip to the movies was on the agenda, where students enjoyed the latest blockbusters on the big screen.
Cooling off and making a splash was on the cards at the Marion Swim Centre. Students had a blast in the water, on the inflatable obstacle course. It was a perfect way to unwind on Tuesday afternoon.
Last but not least, Bounce trampoline park provided an exhilarating adventure. Students bounced to their hearts' content, defying gravity and enjoying an adrenaline rush.
The behavior and positive attitudes of our students was excellent. Teachers and SSO's were thoroughly impressed with their responsible conduct and active participation throughout the camp.
As we wrap up this urban camp adventure, we hope that our Year 7 and 8 students return with a treasure trove of wonderful memories. These experiences not only fostered personal growth and confidence but also strengthened the bonds within our school community. We look forward to many more exciting adventures in the future!
Cockatoo Cafe
The Cockatoo Cafe is open to the community again this term from 10-11:30am on Thursdays. Our last day for the term will be Thursday the 16th of November.
Why not come in and try one of our delicious iced-coffees or iced-chocolates! We hope to see you there!
A Note from our pastoral Care Worker
This week, I thought I would share a couple of poems with you as we celebrate Children's week. As we know, children can be challenging, frustrating, loving and humorous. Each child is a unique individual, created with their own set of characteristics, strengths, talents and personality. They are a gift.
THE BARN DANCE
The Barn Dance is happening this Friday at Amaroo,
Get ready to dance, Les will show us what to do,
Come dressed up, grab a milkshake or coffee from Miss Buttercup.
There will be animals to pat and pony fun too, why not grab a sausage sandwich or two.
Enjoy a chocolate crackle, buy a ticket in the raffle,
don't forget the cup cakes, we will see you from 5:30, don't be late!

IT TAKES A VILLAGE...(to raise a child)
Just one more thing to remember, It takes a Village is on Sunday 29th of October, nearly November,
It's all happening at the Lions Skate Park from 11am, round up the family for a fun couple of hours, 'hallelujah!', the forecast predicts, 'no showers'.
Hosted by the local Interchurch council, with the generous support of Yankalilla Council.
There will be face - painting and more snags, donuts and cakes, plenty of food to share with your mates.
Try your hand at giant Jenga, come and meet Renee, Mike and maybe Brenda.
If your are under the age of 8, bring your teddy at 12noon for a picnic date,
join in and dance with Miss Ally too - whatever it is you choose to do, it's sure to be a lovely afternoon with friends from our Yankalilla community.
And by the way, the 27th of October is Happy World Teacher's Day!
Hats off to Yankalilla teachers, strong and true,
For all the amazing things you do.
With patience and vision you nurture souls,
Helping our students to reach their goals.
With dedication and care, you teach and mould,
The future's stories yet to be told.
So here's to you, for the difference you make,
For the paths you pave, and the lives you shape.
Regards,
Wendy
STUDENT FREE DAY
MONDAY 13TH NOVEMBER