YAS-News Term 3 Week 4 2023
A Note from the Principal
Hi everyone and finally I can see some sun and blue sky at last as I look out the window. As always, our school is a hub of activity at the moment.
I would like to share some of our amazing results from our Primary staff, students and leaders with regards to our children's growth in the Phonics Screening Checks that hare conducted each year.
2018- 32%
2019- 39%
2020- 68%
2021-67%
2022-56%
2023- approx. 80% (pending on a few more tests to be completed)
Congratulations to all involved and also to our families for supporting your children at home.
While talking about data and learning you should be receiving your children's NAPLAN results this week or next. There are letters included to help explain the changes and our teachers are undertaking professional learning at the moment to understand the changes as well.
Our student free day last week allowed us all to complete our final session on using Restorative Practices as a whole school. We have already witnessed a shift using this practice to resolve issues and we are looking at ways we can include our families in this learning to support you at home.
Milkshake day was a huge success with the year 12s learning some very valuable skills on how to manage a very large group of students all wanting milkshakes at the same time! They raised over $300 which was a fine effort and thanks to all families for supporting this event.
I was privilege to be a part of the Middle School connection evening this week. Anna and her team did a great job and it was so nice to see families playing basketball and having fun. The sausage sizzle was a hit and we managed to extract 18 ideas from our families to improve our connection as a school and community that the team will develop into an action plan that they will share. We even managed to have everyone leave to watch the Matildas on time!
Happy weekend
Christine Bell
Principal
A Note from the Pastoral Care Worker
I read an article this week.. Perhaps parts of it will resonate with you.
Today, there is a tendency for our children to grow up too quickly. They rush through the milestones of childhood and before they know it, they find themselves in the turmoil of adolescence.
This is the conclusion of developmental psychologist Dr David Elkind, who called this cultural phenomenon the 'Hurried Child Syndrome'.
It happens when children are encourage to act like teenagers, such as wearing make-up for preschool girls, allowing early teenage dating, treating kids more like grown-ups or exposing them to inappropriate television, music videos, movies, and the internet.
Years ago, there seemed to be a more gentle progression through childhood.
There were cultural markers that defined the ages at which specific behaviours and activities were deemed appropriate or inappropriate. Today these markers have become a bit blurry. When you treat a child as if they're already grown, it becomes very challenging to set limits on their adolescent behaviour in the near future. How can you establish a curfew for a thirteen-year-old, for example, who has been taught to view himself or herself as an adult?
In short, the 'Hurried Child Syndrome' deprives our kids of childhood and puts additional pressure on their mental and physical health.
Wendy Lindsay
Up and Coming Dates
Thursday 24th August – Book Week Parade – In the Gym - Parents welcome!
Wednesday 30th August Father's Day Celebration at School drop off – Bacon & Egg Burgers & Activities.
Wednesday 30th August Father's Day Gift Stall
Monday 4th September - Show Day
Friday 22nd September - Student Free Day
MAYOR'S SHORT STORY COMPETITION
Wonderful News – we have just heard that 8 students from YAS have been shortlisted in the Mayor's Short Story Competition: India E, Judd H, Ethan B, Hugo V, Alice M-R, Ella L, Lilly W and Riley W. These students, together with their teachers: Abbie Staples, Rebecca Catt, Emily Cameron and Jane Joshua, as well as our librarian Wendy McPhee, deputy principal Emma Zimmermann, and principal Christine Bell, have been invited to attend a special presentation evening and announcement of the winners on Thursday 7th September at Victor Harbor Library. Congratulations to all of our short-listed students, we are very proud of you. Good luck!😊
BOOK WEEK CELEBRATIONS
READ - GROW - INSPIRE
Are you ready for Book Week celebrations? The Book Week
parade will take place on THURSDAY 24 August ... that's next week!
Pictured are Rayne, James and Eli from 5-6A working on
their colourful Book Week posters. Next week on Thursday,
students will participate in a day of inspiring activities
relating to the theme: READ - GROW - INSPIRE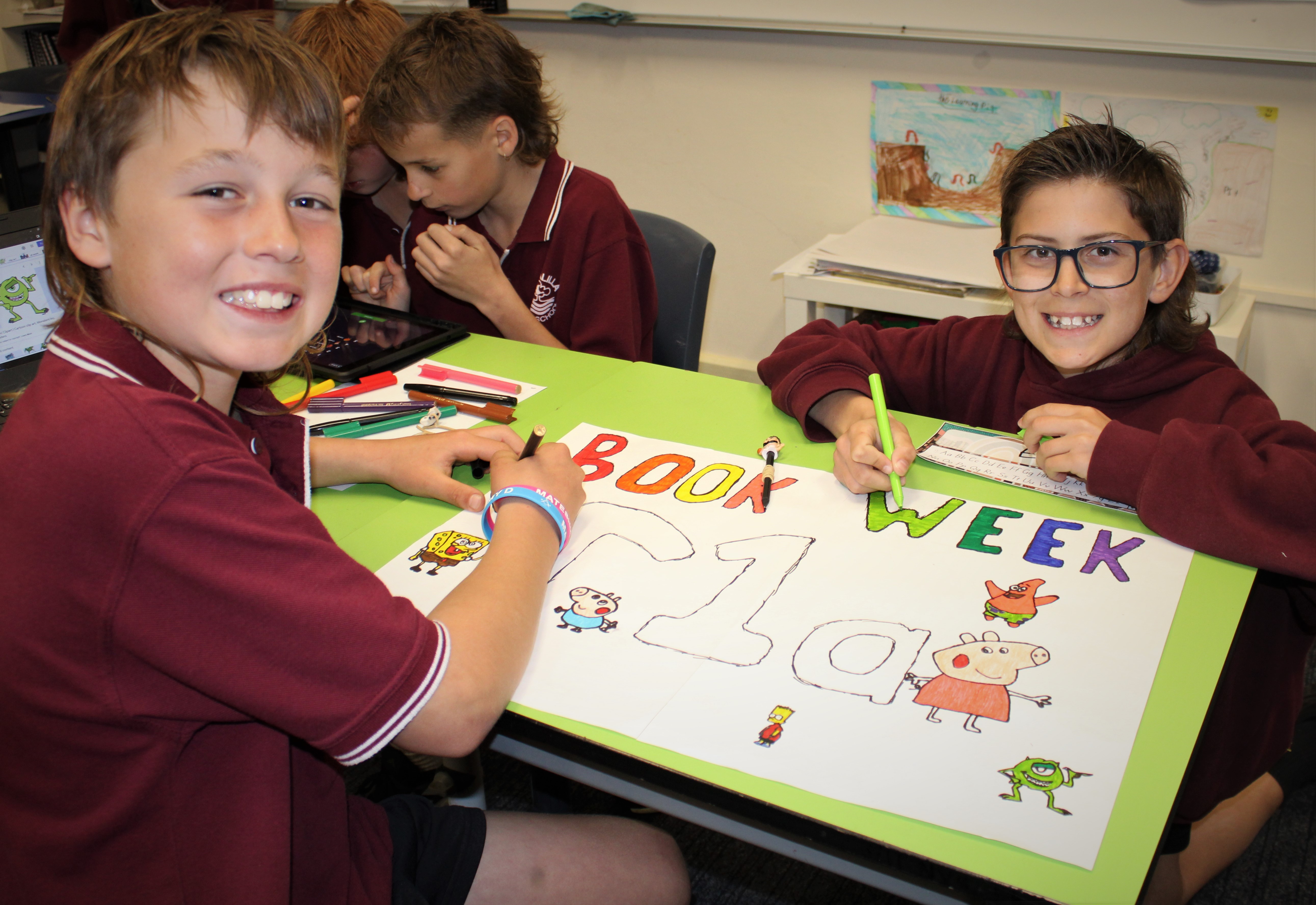 Hi, my name is Nicole, and I am a student studying my Masters in Social Work at Flinders University. My background is in acute care and emergency nursing but more recently working with adults living at home with dementia. I will be working here at YAS alongside Bron for the rest of this year supporting students in areas of wellbeing and facilitating groups which support learning, emotional and social growth and fostering positive relationships among peers. I'm from Victor and live with my husband and our twin daughters who are 19 (I don't know where the time has gone)! I enjoy reading, demo derby's, gardening, supporting Collingwood and spending time with friends/family. I am enjoying meeting the students and staff here, you have been so welcoming! I look forward to meeting you and connecting with families in the community.
Hi! My name's Bron, and I am a Flinders University student studying a Master of Social Work. For the remainder of the year, I will be undertaking my final placement in your school, working with Nicole and alongside students with a focus on wellbeing and social and emotional skills. These support students to develop positive relationships and engage in their learning. I love being outside with my family, going for long walks and exploring nature; my husband and I recently moved into the Victor area and have four children aged between 16 and 9. I am enjoying getting to know staff and students, and look forward to connecting with families in the community as well. Please come and say hi, I'd love to meet you!
The Wattle Flat Team
The Wattle Flat Team have bought in a new innovative called the 'Wattle Flat Chat'. We start with a big welcome circle where we greet the person next to us with a respectful handshake or high five. This week we discussed the upcoming camps, book wee and lions speaking contest. It is a great way for us to connect with our peers. Thank you Miss Hart for organising our Wattle Flat Chat, we look forward to the up and coming ones.
Liz Ray
Primary Teacher
Yankalilla Area School.
Hari Merdeka Indonesia's Independence Day
This week YAS celebrated Indonesia's Independence Day with some junior/middle school team games and a R-5 lunchtime disco. The Cockatoo Cafe served up delicious "Merah Putih" Strawberry and Cream (Red and white are the colours of the Indonesian flag) scones and staff were also treated to some Indonesian snacks.
During Independence Day, communities all over Indonesia come together and celebrate by playing games, dancing and of course, eating! We watched some clips of Hari Merdeka games and noticed that a lot of the games used simple equipment that you could easily find at home , for example Balap Karung (Sack races) and tarik tambang (Tug o war). We also discussed the symbolism of the games, which was often perseverance and team work. Unfortunately, we were unable to link up with our sister school in Makassar, however, they have shared clips of their activities for our students to see next week. We will definitely be adding a couple of the dance challenges to our celebration next year!